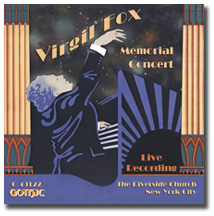 We had a very successful partnership with the American Guild of Organists as we jointly produced the national flagship event for Pipes Spectacular — The Virgil Fox Memorial Concert — held on October 8, 2000, at the Riverside Church in New York City.
Using proceeds from that concert we have established a permanently endowed Pipe Organ Encounter (POE) scholarship in Virgil's name under the auspices of the American Guild Of Organists.
Each year, this fund will provide scholarship assistance for talented POE participants. Many young, aspiring organists will benefit from this fund each year, some whom otherwise would be unable to attend a POE.
We also gave a sizeable donation to the AGO Pipe Organ Encounters last summer which was not part of the permanently endowed scholarship. The purpose of that was to use some of the proceeds from the memorial concert in a timely fashion, while the details of a more permanent solution were worked out. Look for an announcement in an upcoming issue of The American Organist.
All the artists who performed on the Memorial Concert generously donated their time and talent in support of the Scholarship Fund. They were: Steven Frank, Tom Hazleton, Robert Hebble, Mark Miller, Fred Swann, Tim Smith, Robert Tall, and Carol Williams. Gothic Records also made a generous contribution to the scholarship fund in lieu of royalties to the performers.
To add your tax-deductible contribution to this fund, please contact:

F. Anthony Thurman
Director of Development and Communications
AGO National Headquarters
475 Riverside Drive, Suite 1260
New York, NY 10115-1260

You may also contribute online!