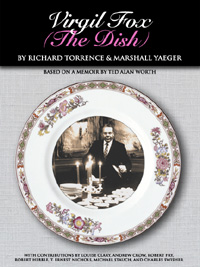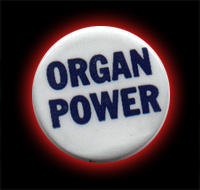 ORGANARTS.COM ANNOUNCES

"Virgil Fox (The Dish)"
by Richard Torrence & Marshall Yaeger
based on a memoir by Ted Alan Worth
with contributions by Louise Clary, Andrew Crow, Robert Fry, Robert Hebble, T. Ernest Nichols, Michael Stauch, and Charles Swisher
Commissioned by the Virgil Fox Society
Published by Circles International

January 1, 2001 - ORGANARTS.COM announced today that the Virgil Fox Society has commissioned Circles International to publish a biography of the late Virgil Fox (1912-1980) in the spring of 2001.

The idea for a book about the most successful American organist in the history of the instrument originated in San Francisco in the early 1990s when Richard Torrence and Marshall Yaeger were visiting Ted Alan Worth, the late organist who was Fox's confidant, protégé, and artistic heir.

Torrence had been Fox's manager from 1962 to 1979, and Yaeger had written Fox's management material and record liner notes, and had been booking and marketing director during Torrence's management of him.

Worth suggested that Yaeger, who was an author, dramatist, and former head writer for CBS Television, write the definitive biography of Fox, "warts and all." Yaeger suggested that Worth was more qualified to create a book about a musician; but he and Torrence promised to edit and add to it. Worth spent two years completing a 375 page manuscript in longhand, which he gave to Torrence shortly before his death in 1998 from cancer.

Torrence and Yaeger have edited and rewritten the manuscript, added portions of their own regarding the management and marketing of Fox's talent, and invited several of Fox's closest friends, students, and artistic collaborators to contribute additional sections of the book that pertain to Worth's commentary.

The book draws an affectionate but irreverent picture of a brilliant, irreverent artist; and is therefore subtitled "The Dish," which was a term popularized in a line from Rodgers & Hart's "The Lady is a Tramp."

Scores of historical photographs collected by Ted Alan Worth, Richard Torrence, and the Virgil Fox Society will be included in the book. The cover pictures Virgil Fox dishing up "Chicken à la King of Instruments" in his sumptuous dining room.

Fox was known to "burn water when he boiled it"; but the publicity photograph was treated to a one-month ride on the New York subways to help promote his New York concerts.

Publishing the long awaited book became possible when the Virgil Fox Society guaranteed its preparation. A significant portion of the proceeds, therefore, will benefit the society and help sponsor organ scholarships.

Copies of the 350-page paperback book, designed by Len Levasseur and published by Circles International, may be reserved by credit card. The cost is $30 plus shipping and handling. Estimated time for shipping is March 31, 2001. The first 500 books ordered will be signed by the authors and shipped with one of the "Organ Power" buttons that were given out at Virgil Fox's first "Heavy Organ" concert on December 1, 1970 at New York's Fillmore East.