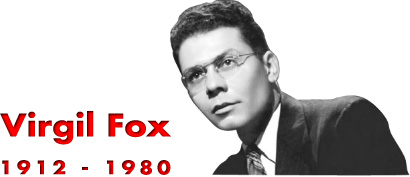 Virgil Fox was born in Princeton, Illinois, on May 3, 1912. He was a child prodigy. At the age of ten, he was playing the organ for church services. At fourteen, he played his first organ recital before a cheering crowd of 2,500 people in Cincinnati. At seventeen, he was the unanimous winner of the Biennial Contest of the National Federation of Music Clubs in Boston, the first organist ever chosen.

Before graduating in 1930 as salutatorian of his high school class, he studied for three years with Wilhelm Middelschulte, Organist of the (now) Chicago Symphony Orchestra. In 1931, he became a scholarship student at Peabody Conservatory in Baltimore, America's oldest music conservatory. In his twentieth year, he played five recitals from memory, completed eighteen examinations with the highest grades in his class, and became the first one-year student in the history of the Peabody to graduate with the its highest honor—the Artist's Diploma. In 1936, he returned to Baltimore to head the Peabody organ department, and to serve as organist of Brown Memorial Church.

In 1942, he enlisted in the Army Air Force and performed 600 recitals in three years to raise money for the armed services. After his discharge in 1946, Virgil Fox performed forty-four major works from memory in a series of three concerts given under the auspices of the Elizabeth Sprague Coolidge Foundation, before sold-out audiences in the Library of Congress. In the same year, he was selected to be organist of New York City's famed Riverside Church where he served for nineteen years (with W. Richard Weagly, Director of Music), until 1965.

Virgil Fox became a member of the American Guild of Organists in 1946. He was presented in recital by many AGO chapters, and was a featured performer at many AGO national conventions. He played three times at the White House (on piano); and in 1952, was chosen by the State Department to represent the United States at the First International Conference of Sacred Music in Bern, Switzerland. In 1963, he was awarded an honorary doctorate by Bucknell University; and in 1964 he received the Peabody Conservatory Distinguished Alumni Award.

In his long and brilliant career, Virgil Fox gave recitals on practically every important organ in the world. He was the first non-German artist to perform the works of J. S. Bach at the Thomaskirche in Leipzig. In 1936, he played the first paid recital on the Kilgen organ in Carnegie Hall, New York. In 1962, he participated (with E. Power Biggs and Catherine Crozier) in the inaugural concert of the Aeolian Skinner organ in New York's Philharmonic Hall, Lincoln Center. In 1963, he played the first solo recital and made the first recording of the new organ. He played recitals at Westminster, Durham, and Lincoln Cathedrals; King's College, Cambridge; Nôtre Dame and Ste. Clotilde, Paris; and the Marienkirche, Lübeck. In 1973, he played his concert as a Kennedy Center Founding Artist to a sold-out house in the 3,000-seat Concert Hall of the Kennedy Center for the Performing Arts, Washington, D.C. He inaugurated the Rodgers Carnegie Hall organ in 1974, which he had designed. In 1977, to celebrate the 50th anniversary of his concert debut, he played a sold-out concert ("The Bach Gamut") at Kennedy Center and in Tokyo, Japan at NHK Hall; and performed the Joseph Jongen Symphonie Concertante with the NHK Symphony.

Perhaps the most daring concert Virgil Fox ever played was at the Mecca of rock music, New York's Fillmore East, where, in 1970, he gave an all-Bach program combined with a light show on the Rodgers Touring Organ. He expanded upon a practice he had begun years earlier of speaking to the audience from the stage, discussing the music and bringing a new dimension to his concerts. For nine years, "Heavy Organ" toured across the country to various cities, colleges, and festivals. Virgil Fox is credited with bringing the music of Bach to young people with an innovative and exciting style, although he often drew adverse criticism from some of his colleagues in the organ world and from those music critics who found his approach too flamboyant.

With George Prêtre and the Paris Opera Orchestra, he made the world première recording of Jongen's Symphonie Concertante in 1961. Beginning in the 1930s, Virgil Fox made more than sixty recordings released by Columbia, RCA Victor, Capitol, Command, Reader's Digest, Crystal Clear, Helden, and Decca Records. Many have been re-released, and projects are currently underway to release heretofore-unreleased performances. At the time of his death, he was working with Robert Hebble on a book about organ technique.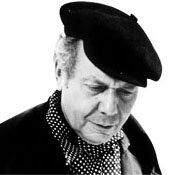 Virgil Fox's final performance took place on September 26, 1980, at the opening concert of the Dallas Symphony's season. His life, which ended on October 25, 1980, following a four-year fight with cancer, was one of courage, innovation, and dedication. Funeral services were held at his home in Palm Beach, Florida and at the Crystal Cathedral, Garden Grove, California; and a memorial service was held at the Riverside Church, New York.